In 1977, the then Sydney-based provincial of the Catholic brotherhood St John of God, Brother Brian O'Donnell, received an anonymous letter bearing disturbing news. The prior and one of the brothers at Marylands, the order's school for students with intellectual disabilities in New Zealand, were sexually abusing a boy, the letter alleged.
Pausing at that moment now, as O'Donnell's eyes flicker across the words on the page, there is an opportunity for dozens of children to avoid their fate, for boys who will later die by suicide to become grandfathers, and countless unhappy lives to take a different trajectory.
The junior brother mentioned in the letter was Bernard McGrath, who went on to become the most notorious perpetrator of child sexual abuse among religious orders in Australia and New Zealand and possibly the most prolific. When the letter arrived he had just been promoted by the prior, Rodger Moloney, whose role only emerged in detail in a report into abuse in care by a New Zealand royal commission last week. He was McGrath's mentor.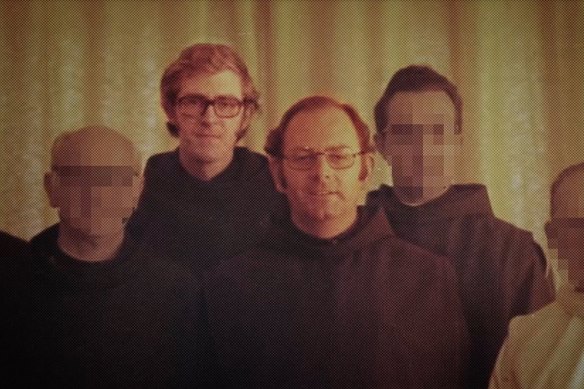 But O'Donnell was disinclined to believe the allegations.
"I thought it was a trouble-causing letter," he would tell Catholic Church Insurance Limited years later.
"I didn't think it was based on fact and I thought it was members of staff at our school in Christchurch trying to get the brothers moved on."
But O'Donnell did not do nothing. Moloney, an Australian, was his close friend and due shortly to be seconded to the Vatican to apply his original training as a pharmacist. O'Donnell allowed this appointment to go ahead. He applied with McGrath what became known as the "geographic cure" and transferred him to Kendall Grange, a boys' home run by the order at Morisset Park on the NSW Central Coast.
Then O'Donnell boarded a plane to Christchurch. By this time he had received a second letter containing similar allegations and he brought with him a sample "in the hope that we could identify what I would call disguised handwriting", he later told the insurers. Moloney – who had already departed for Rome – had previously arranged samples from each of the staff.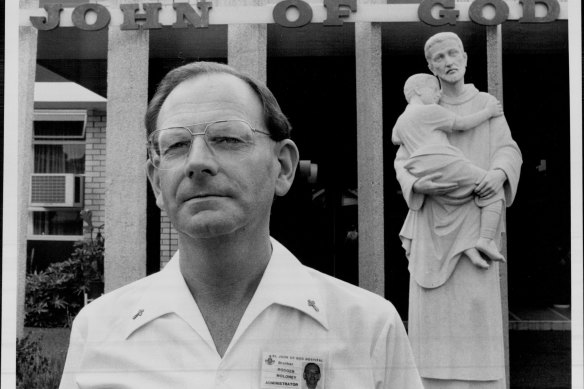 O'Donnell's time in Christchurch appeared on the evidence before the royal commission to have been predominantly spent substantiating his "trouble-causing" theory. He did not conduct any interviews. One brother, who had been waiting until Moloney left to raise his suspicions about McGrath, brought his concerns to O'Donnell and was told to "leave it with me". O'Donnell also spent some time examining the rolls to see if any boys' parents lived in the suburbs identified on the letter, but none matched.
On his return to Sydney he wrote to Moloney in an avuncular mood.
"I am sure you would be pleased to hear from me that, after careful inquiries into the allegations made in regards to Marylands, I am convinced they were completely unfounded," he wrote. "More than that, I am sure they are the work of a ruthless and vindictive member of the teaching staff. You need have no further concern about that matter … It was good to hear your voice on the phone the other night."
He also destroyed the letters – "because of the harm they could do", he later explained.
But New Zealand's royal commission would hear that the sexual abuse at Marylands went well beyond the allegations made in the anonymous letters.
One in five former students claims to have been abused, with 74 complaints against McGrath and 32 against Moloney. More than half the brothers who ministered in the Christchurch community had specific allegations of child sexual abuse made against them. A caregiver told the royal commission it was common for staff to have to apply cream medication for anal fissures.
On several occasions students disclosed to Moloney that they had been abused by other brothers, only to find nothing was done and the abuse worsened.
One former student, who was repeatedly abused by McGrath, said McGrath and Moloney were close and he would often see them emerge from a bedroom together. One night he alleged he was plucked from his bed and they attempted to abuse him, but he would not stay still – so McGrath whacked him with the plastic baseball bat he always kept nearby.
Another survivor claimed McGrath and Moloney normalised sexual abuse, and it later became common between the boys as well.
"The brothers made us perform sexual acts on each other," he alleged. "This included sexual fondling and oral sex. At the time I thought this must be what boarding school was like because it was so common and normal at Marylands. Looking back at it now, I realise this isn't normal behaviour."
McGrath would become a notorious paedophile on both sides of the Tasman. He is currently serving two prison sentences for more than 100 child sex offences relating to his time at Kendall Grange, where he rose to become the head of the school. The Royal Commission into Institutional Responses to Child Sexual Abuse found 40 per cent of the brothers at Kendall Grange were child sex offenders.
But decades later McGrath would claim and receive $100,000 compensation from the order for the sexual abuse perpetrated by Moloney.
It was more than many of the child victims would receive.
Moloney spent six months in the Vatican before being transferred to Papua New Guinea, where he sat on the order's Oceania provincial council, administering Australia, New Zealand and PNG. In the late 1990s he was transferred to Kendall Grange.
When the New Zealand government sought his extradition to face 30 charges of sexual abuse against 11 minors in 2003, the order's lawyers spent three years and an estimated $1 million fighting for him to stay in Australia. After serving nine months of a 33-month sentence in New Zealand he returned to Australia and was welcomed back into the order. He died in their care in 2019.
The New Zealand royal commission found the order had missed a clear opportunity to respond to reports of abuse by Moloney and McGrath in 1977. McGrath was convicted of sexually abusing dozens of intellectually disabled children in his care over five trials in New Zealand and Australia between 1993 and 2019.
"Had the order taken appropriate action at that time, later prolific offending by these two brothers could have been prevented," the commission reported.
It also queried the rationale for a $100,000 payment to McGrath in 2012 over the abuse he had been subjected to by Moloney and another brother in the 1970s. "The terms of the settlement were confidential and we were given no documents by the order that would explain the basis for a payment of this size, or why the payment was higher than many of [those] his victims received."
RELATED ARTICLE
A spokesman for the Brothers of St John of God said the order was considering the findings and was committed to participating in any redress scheme. "SJOG fully supported the inquiry and participated voluntarily when requested," he said.